Events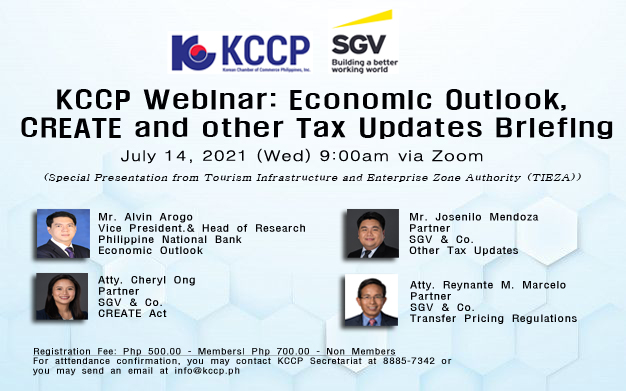 Upcoming Event: KCCP Webinar on Economic Outlook, CREATE Act & other Tax Updates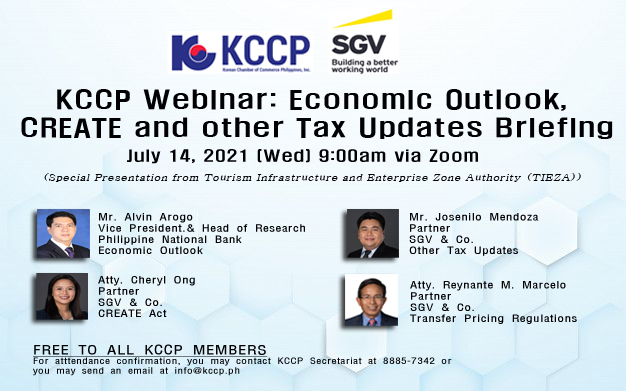 Dear KCCP Members and Friends,
Greetings from Korean Chamber of Commerce Philippines, Inc.
With the Philippines working towards economic recovery in the aftermath of COVID-19 pandemic, KCCP deemed it important to provide a platform to further inform all KCCP members on the important legislations that have a significant impact on local and foreign businesses in the country.
KCCP also invited Tourism Infrastructure & Enterprise Zone Authority (TIEZA) to present their tourism investment opportunities and are looking for private sector partners to develop the country's tourism infrastructure project for the interest of our members.
In this regard, KCCP would like to invite you to attend the discussion on these timely topics with prominent experts from Philippine National Bank (PNB), SGV & Co. and TIEZA on July 14, 2021 9:00AM via Zoom. You may see the attached program and confirmation form for your reference.
If you have any questions, please contact our officers, Ms. Chi or Ms. Sang at 8885-7342 or 09178015920 / 09158887296. For confirmation, please send us the filled-up confirmation from attached to this letter at info@kccp.ph
Thank you and we look forward to your participation.